Last updated on June 15th, 2022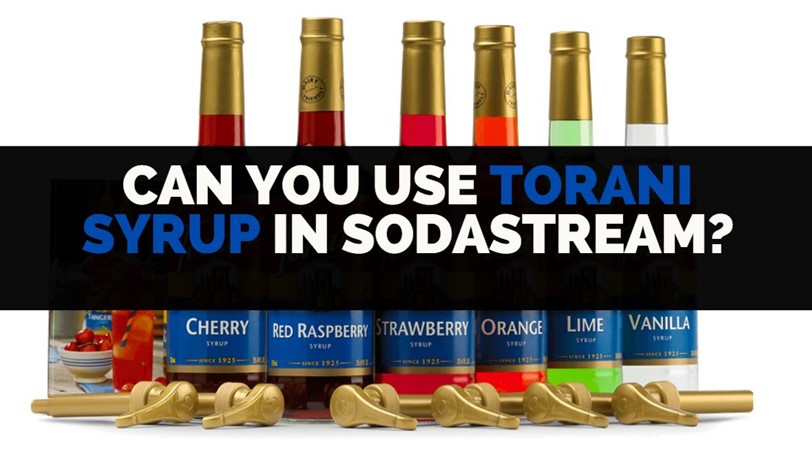 SodaStream offers you the great convenience of making soda or carbonated water in the comfort of your own kitchen.
Of course, basic carbonated water may not sound appealing on its own, but when you factor in all of the flavors available to add using syrup, you suddenly find a whole world of flavor at your disposal.
The question then becomes, which flavor do you want first?
When you decide to expand your horizons even further, you may want to consider other flavor options to mix with your SodaStream.
Torani Syrups are known for being high quality and having a great selection, but they aren't the only brand you may encounter.
There is a whole world of powered flavors, as well. When you think of all of the options, like Crystal Light, the possibilities for your SodaStream really are endless.
Can you use Torani Syrup in SodaStream?
Yes, you can use Torani Syrup with Sodastream. Let me explain.
While SodaStream makes its own line of flavorings that are best suited for use in their machines, many people want to venture out beyond the basics and add other flavor options.
Torani Syrups is often the first brand to come to mind since their selection is so vast and varied.
Luckily for all of us, like most added flavorings, Torani Flavored syrups work well with SodaStream. They'll certainly allow you to expand your flavor pallet with some popular flavors.
Flavor
SodaStream Syrups
Torani Fruity Syrups
Fruit Flavors
Cranberry, Blue Raspberry, Homestyle Lemonade, Pink Grapefruit, Strawberry Watermelon, Coconut, Pineapple, Berry Mix, Coconut
Apple, Peach, Tangerine, Strawberry, Raspberry, Pineapple, Pomegranate, Grapefruit, Orange, Mango, Passion Fruit, Lime, Kiwi, Lemon, Grape, Coconut, Cherry
Soda Flavors
Cola, Ginger Ale, Cream Soda, Dr. Pete, Fountain Mist, Root Beer, Cherry Cola, Orange Cola

*All available in "Diet" as well

Root Beer
Indulgent Flavors
None
Tiramisu, Salted Caramel, Pumpkin Spice, Maple, Irish Crème, Gingerbread, French Vanilla, Cupcake, Chocolate Chip Cookie Dough, Cheesecake
Other Flavors
Tonic
Almond, Vanilla, Amaretto, Peanut Butter, Peppermint, Lavender, Hazelnut, Coffee
While Torani syrups do work well in SodaStream, you can see from the chart that they specialize in very different flavors than SodaStream.
You can further add plain cream along with some Italian Soda Syrup and whipped cream topping to make Italian Cream Soda.
This Italian cream soda will look similar to those available in the Italian Soda Bar if you use Torani syrups.
Italian Soda Recipes with Torani Syrups
If you want a
traditional soda flavor
, you'll likely want to find a SodaStream brand of flavoring.
They will be able to satisfy your Italian sodas craving, while Torani really only offers root beer.
On the other hand
, if you are feeling a bit more creative and indulgent, Torani's selection of unique flavors, like Gingerbread, Pumpkin Spice, and Chocolate Chip Cookie Dough can create quite the unique Italian sodas selection.
Torani offers such a wide range of flavors that there are many Italian sodas recipes using these syrups to craft amazing drinks.
You can try the Italian soda recipe of your choice using their extensive range of flavors.
Notice that neither of these brands offers any tea flavors, nor is there much variety in kinds of lemonade. For those flavors, you may need to look beyond just SodaStream and Torani.
While SodaStream is the natural first stop for flavor choices, and Torani is well-known enough to be a clear second consideration, many people like to see beyond both of them and explore powered options, like Crystal Light, or their own concoctions using fruit juices.
Can you use any syrup with SodaStream?
SodaStream works by carbonating the water before you add any flavoring or syrups.
This is the key to giving you
flexibility with your flavor choices
.
It means that you are essentially just adding flavor to Sparkling water the same way that you do with pre-packaged bottled soda water.
This makes it easy to add any flavoring in Sparkling Water that you'd like.
While the most obvious choice is to use the SodaStream flavorings, any liquid flavor concentrate will work.
You can use Mio, Torani, or even just fruit juice!
You may want to experiment with the liquid to determine what level of concentrate works best for you.
Some people may prefer a really strong flavor, while others like a lighter touch.
For those who do prefer a lighter level of flavoring, fruit juice is a great option, since it won't be too strong.
While you can use any syrup with SodaStream, it is best that the flavoring is in a liquid form. Since you will need to "mix" it with the soda water, and the soda water is carbonated, you won't want to use something that will require you to shake or stir vigorously.
A gentle, side-to-side tilt should be all that it takes to mix your syrup with your soda water.
Are SodaStream syrups healthy?
Healthy is a word that can mean different things to different people.
SodaStream does a great job of recognizing the concerns that many people have with too much sugar.
They offer a diet version of all of their syrup flavors, so if sugar is your number one health concern, SodaStream syrups may be a great way to get your soda pop fix from the convenience of your own home.
If your health concerns extend
beyond simple sugar, SodaStream may still be the right choice for you, since most of their syrups contain no high fructose corn syrup, no aspartame, and significantly less sugar than store-bought soda.
It is important to note that many of their syrups do contain both caffeine and artificial colors like caramel coloring. Some syrups even contain artificial flavors that can affect your health.
Of course, with SodaStream syrups, you also have the flexibility to decide how much of the syrup you wish to add.
It depends on you how much sweet syrup you use in your refreshing drink or soda.
When you combine the ability to add only a moderate about of syrup with their decreased sugar content and limited artificial ingredients, SodaStream syrups are certainly a healthier choice than store-bought soda.
SodaStream also offers a line of organic and fruit syrups that provide even more options.
Moreover, you should avoid cream inside these sodas to make Italian Cream Soda if you are following a diet.
Can I use Crystal Light with SodaStream?
Neither SodaStream nor Torani offers much in the way of syrups that contain
tea flavoring
.
Their lemonade options are also more limited than many people prefer.
This is where other syrups and flavorings can really provide some great choices.
Crystal Light is certainly a popular choice with a wide range of flavors.
Using the liquid forms of Crystal Light will make mixing it with your SodaStream soda water as easy as adding any other flavoring.
It won't take any extra steps or special considerations on your part.
To add a liquid form of Crystal Light to your SodaStream soda water, just use the following steps:
Fill your SodaStream bottle with water to the fill line
Insert the bottle and screw it into place
Pulse for carbonation until you reach your desired level of fizz
Carefully remove your soda water from the SodaStream by unscrewing and tilting the bottle gently
Once you have your Crystal Light and soda water ready, tilt the soda water at a 45-degree angle
Squeeze your desired amount of Crystal Light down the inside of the bottle so that it runs gently into the soda water
Before re-capping, the SodaStream bottle, tilt it side-to-side and swirl it gently to mix the flavoring with the soda water
Taste your mix and repeat steps 5-7 until the flavoring is as strong as you'd like it to be
If you prefer to use one of the powdered versions of Crystal Light, you will need to add an extra step.
If you add the powder directly to soda water, you'll discover two major challenges:
It won't mix well without shaking, and that's not a good idea with a carbonated beverage! And
It will likely cause excessive fizzing that will bubble-up, overflow, and make almost as much mess as if you had shaken it!
The solution is surprisingly simple. Mix the Crystal Light powder with just enough water to liquify it. It won't take more than 1-2 tablespoons of water to mix with the amount of powder usually used with a 16-20 oz bottle.
Warmer water will dissolve the powder better than cold water, and you will want to be sure to mix it thoroughly.
This means that you can use one of the individual travel packs and mix it with 16-20 oz bottle of soda water.
You'll just need to mix it with 1-2 tablespoons of water first.
That will form a Crystal Light concentrate that can be added just like you would add syrup or a liquid version of Crystal Light.
Of course, you can use a larger amount of Crystal Light to mix with a larger amount of soda water; just be sure to turn it into a liquid concentrate by adding a small amount of water with the powder first.
SodaStream makes it easier to make healthier beverage choices for yourself, but it's also
healthier for our planet
.
Plastic bottles are one of our biggest waste products.
It's easy to see why when you consider how convenient they are.
If you want to know whether you can use regular bottles instead of Sodastream bottles in your soda maker have a look at the linked article.
Most of the club soda, juice, and water that we grab while out-and-about comes in a plastic bottle that is eventually thrown in the trash.
While many people are happy to switch to a reusable water bottle, that only helps so long as you are willing to drink nothing but plain water.
Since that gets very boring, very quickly, many people end up giving up their water bottles in favor of the variety of beverages available in disposable plastic bottles.
SodaStream can fill this gap by allowing you as much variety as you would find on the shelves of a convenience store while still using reusable bottles
(check our my Sodastream Models ultimate guide here).
Since SodaStream knows that there will be more than just plain water in their bottles, they make them dishwasher safe. This makes keeping them clean very easy and convenient.
Most people find that it's best to have quite a few SodaStream bottles in the cabinet.
You can fill one with water, carbonate it, add your syrup of choice for that day, and enjoy!
Of course, you can also store a selection of them in your refrigerator and pour a glass of whatever you may be in the mood for at your leisure.
Either way, SodaStream will make it easy to keep disposable plastic bottles out of your home and our landfills.
SodaStream offers
you the easy convenience of making your own soda water at home.
With SodaStream syrups, you can adjust the pop to meet your tastes if club soda while limiting your sugar intake and eliminating high fructose corn syrup. You aren't limited to just SodaStream syrups, though.
SodaStream will give you the freedom to explore the indulgent flavors of Torani Syrups.
You won't even have to give up your favorite Crystal Light flavors, so long as you mix them carefully.
SodaStream offers many ways to enjoy healthier alternatives to traditional, store-bought soda pops.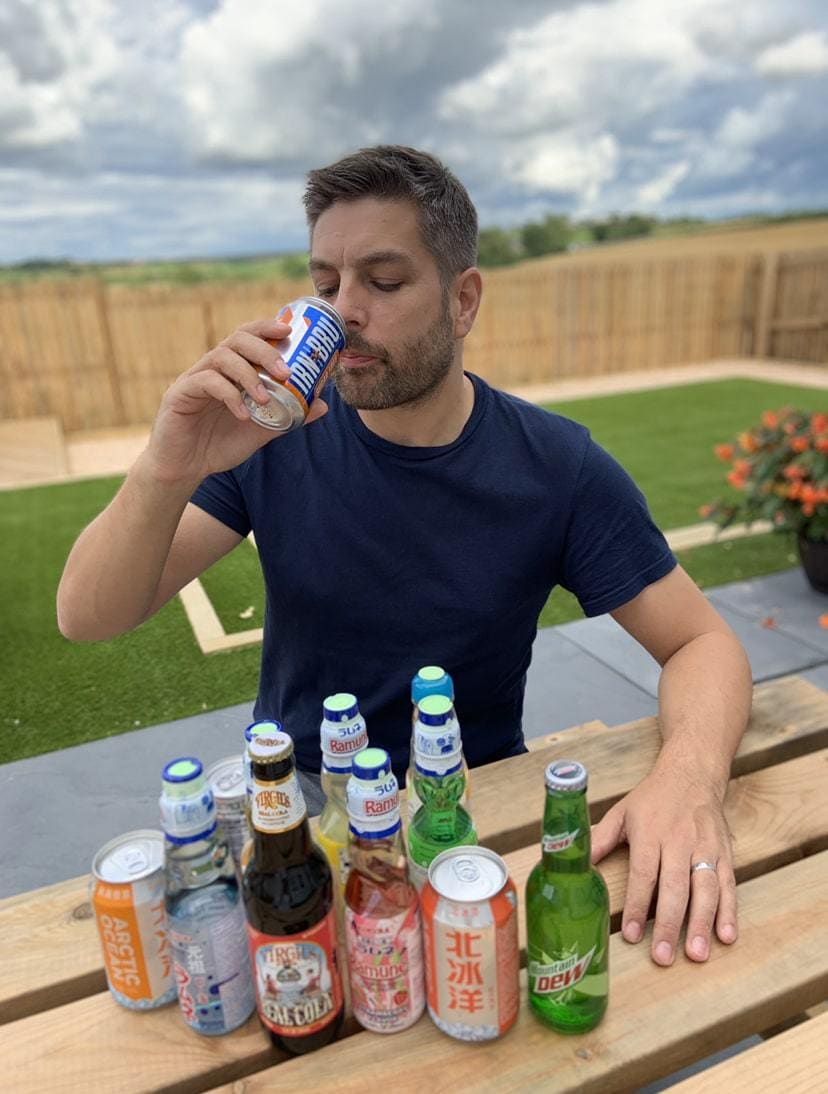 I'm the owner and blogger here at SodaPopCraft.Com. I'm a soft drinks enthusiast and I'm bringing you all I know and research from the world of Soda Pop & Kombucha soft drinks.
I hope it inspires you to make your own healthier fizzy drinks at home.
Read more About Me here