Last updated on August 11th, 2021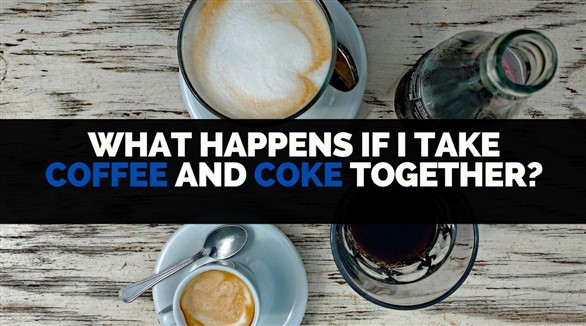 Okay, let's admit it. A lot of us are caffeine addicts. And the fact that Coca Cola (which already tastes awesome) has caffeine in it just seems like a bonus.
But do you worry about how much caffeine you are drinking and whether or not it is safe? How much caffeine is too much?
We will have the answers to all of those questions and more for you in the following article.
The Amount of Caffeine in Coffee and Coke and How Much Is Safe to Drink
This is the approximate equivalent of either 4 cups of coffee or 10 cans of Coke.
Taking in more than 400 mg of caffeine in one day can lead to a caffeine overdose, which can result in increased anxiety, increased agitation, increased nervousness, high blood pressure, feeling jittery, a rapid heart rate, heart palpitations, and more.
The Catch
You may have read the above statistics and thought,
Okay, great. I always drink fewer than 4 cups of coffee a day, and I would never dream of drinking 10 cans of Coke in one day. Whew! I'm safe.
But here's the catch.
If you are a typical coffee drinker, the chances are high that you don't drink just a standard, 8 fl. oz cup of coffee every day. In fact, your Starbucks mug or coffee Thermos may contain 12 oz, 16 oz, 20 oz, or even more than that.
For reference, a tall cup of coffee from Starbucks is 12 fl. oz, a Grande size coffee is 16 fl. oz, and a Venti size coffee is 20 fl. oz.
Similarly, if you have already had the equivalent of ten to twelve 12 fl. oz cans of Coke, definitely don't drink coffee in addition to that!
And actually, that amount of Coke is already severely detrimental to your health (for many reasons other than caffeine), so try not to drink that much Coke in the first place.
It's okay.
You don't need to drink 10 cans of Coke or the entire 6 pack of 20 oz Coke bottles, no matter how thirsty you may feel.
But aside from those extreme cases, going a little bit over the 400 mg limit occasionally is generally fine for most of us.
The worst side effect we may experience is feeling extra jittery and may experience heart palpitations or a much faster heart rate.
But after a little while (or after a good night of sleep), it calms down.
So feel free to drink coffee and coke on the same day! Just don't go too crazy, and you should be fine.
BUT it is not advisable.